Bitcoin is the king of cryptocurrencies. While known for its volatility on the market, bitcoin is steadily on the rise. It has become a primary indicator of the state of all the cryptomarkets. When the bitcoin price is up, everyone prospers, when the price plummets, all other cryptocurrencies follow.
Bitcoin is a proof-of-work network. It means that individual miners are investing their computing and electric power to solve complex cryptographic tasks. Once a set is done it's called a 'block' and is added to the network (hence 'blockchain'), with miners getting the spoils in the form of newly 'minted' bitcoin.
In the last year, bitcoin has grown in popularity and a big step for its adoption was the decision of El Salvador's government to implement bitcoin as legal tender. Big financial institutions have started investing in bitcoin, using it as a store of value and interest rate derivative product.
Bitcoin is not exactly a stock-like asset, it will not make you yield. The price can rise or fall, but there are no staking rewards, If you are a bank or a fund, you want to hold bitcoin either as 'electronic gold' or for lending, so it can bring you a yield.
Bitcoin Circuit Review
What is a Bitcoin Circuit? Actually, that is not quite certain. On their website, it is said that Bitcoin Circuit is an app, a powerful intuitive AI, software for traders. Homepage reports about automated and manual trading, hawking it as the most powerful trading algorithm. It's not only the lack of clarity and the vague and mismatching terminology that raises the first red flag.
Trading bots
Namely, trading bots are nothing new. Algorithms that help daytraders or spot traders already exist, both in the crypto sphere, as well as in the traditional forex markets. How do they work? They eliminate the human emotions from the trading process. A trader sets up the parameters, set sell and buy orders so that no fear and hesitation can mess up the investment strategy.
The second important aspect of crypto and trading robots (or bots) is their speed. With the volatility of the market and the tempo of the fluctuations, humans can't possibly handle buy and sell orders when they can't even keep track of the beat of the market.
Whenever trading bots or grid bots, as they are properly called, are hailed as AI, you can raise another red flag. They are automation, yes. They are algorithms, yes. But they are no AI. And they are already featured at crypto exchanges, like KuCoin, or have their own platforms, like Pionex.
No AI yet, sorry
If you look them up on YouTube, you will see that all the relevant influencers have already tested them and found them neat, but inadequate, in the sense that they are by no means fully autonomous, that they can ruin your investment, and overall they are currently a tool to automate processes if you know how to trade, rather than a golden bullet or road to becoming a millionaire overnight.
No AIs exist that will intuitively read the markets and create signals. There are bots, automation tools, there is analytics software, there are expert systems, yes. But no autonomous AI to do the job for you, as a trader or an investor. At least not for retail.
Aggressive marketing?
It could be just that Bitcoin Circuit is doing aggressive marketing, which is sort of underlined with their "Due to high media demand, we will close registration by today – hurry" message.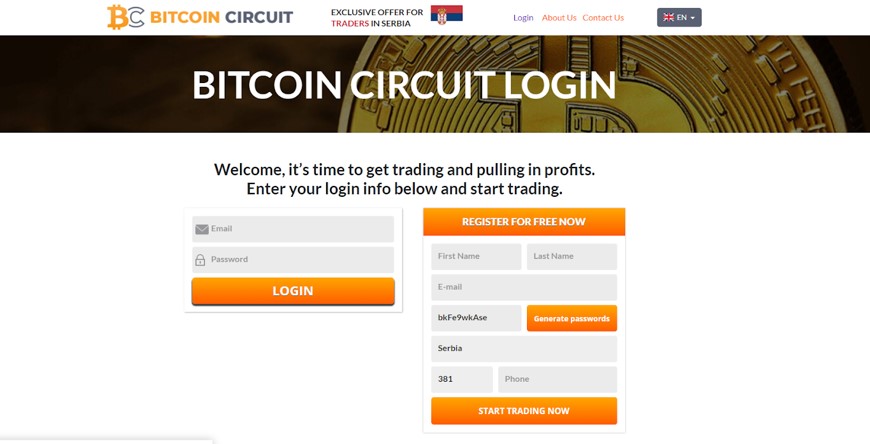 The next red flag is the reviews that never mix Bitcoin Circuit with other respectable trading bots or crypto exchange platforms, mostly mixing it with unknown ones and never with a single respectable platform.
Sure there is a list of influencers and important names listed on the reviews, like Elon Musk, Reddit, Trustpilot, Thierry Henry, Bill Gates. Each endorsement is truthful. After explaining who the famous platform or celebrity was, the report ends with "they didn't endorse nor invest in Bitcoin Circuit". But in the world of crypto, namedropping like that is a very big red flag.
Trustpilot reviews for other trading bots show a lively community, some praise it, some complain, as it would be with a live product. Bitcoin Circuit's Trustpilot is basically dead with loads of suspicious 5-star bomb reviews, and a small percent of scam outcry. None of the bad reviews looks like a dispute or a platform issue, as most complain that they can't withdraw their money, or that they were harassed by the accounts.
How can Bitcoin Circuit make you millions?
The steps seem easy like on any other crypto trading platform. You sign up to register for free, with your first and last name, email, automatically generated password, and a phone number, which is a bit odd. Another red flag there. On its own, it would be just a little one, but a lot of
user reviews report account managers aggressively calling them to get customers to give the banking details.
How the magic happens is not clear. There are no trading software screenshots anywhere. Customers are promised an 85 to 90% win rate. There is also a promise of a 7% return rate, but those are numbers from the reviews, not the actual platform.
Basically, it is not clear if the user is setting up the bot, or what are the options for transferring your crypto, since the buy-in is 250 EUR. Presumably, Bitcoin Circuit provides bitcoin for the trade, since it's not clear what is the 250 EUR deposit for.
Fees are reportedly free, there are no withdrawal fees whatsoever. Again, the different reviews report 2% withdrawal fees. So it's not sure what is true and how does the platform makes profits.
What's the final verdict?
There are many projects and platforms that look like Bitcoin Circuit. Promising high returns for little to no risk. In the world of cryptocurrencies, especially when it comes to crypto savings accounts, lending platforms, yield farms, and other crypto services, that's not a myth.
However, Bitcoin Circuit raises too many consecutive red flags to qualify as a platform to be recommended. As always, in the world of crypto investments, do your own research, stay educated and may you have a profitable day!
Aaron Savage
I think my life changed the day I learned about this amazing guy whom I share the name with – Aaron Savage. He was among the first people ever to advocate for freedom of information and the internet, and I feel he would support a great deal of decentralized finance idea if he was alive today. So, I am just another IT guy, super curious about crypto and writing my opinions and analyses here from time to time. Enjoy!