If you're wondering whether to invest with Bitcoin Prime or not, we suggest you read this review carefully. We will describe exactly what it is and why you should avoid it.
Bitcoin Prime is an alleged application for crypto trading. However, it is in fact a rebrand of old bitcoin schemes that were used to dupe people.
Cryptocurrencies like Bitcoin, Ethereum, Dogecoin, etc., are now being traded across several platforms. It is recognized as a highly profitable venture even by billionaires.
There are also many bitcoin trading apps or robots where you can conveniently trade crypto by yourself. They are also available in mobile and desktop apps.
Meanwhile, we have discovered from our investigations that the entire Bitcoin Prime network is a massive scam. You'll only end up losing your hard-earned money to fraudsters if you trade with Bitcoin Prime.
Check out our Bitcoin Prime review to see proven reasons that Bitcoin Prime is an absolute scam. You'll also learn legit alternatives and tips on risks to avoid in crypto trading.
Let's get into it!
| | |
| --- | --- |
| Features | Rate (0-100) |
| Security (everything about licensing, docs, secure systems, etc) | 20 |
| Ease of use | 100 |
| UI/UX | 100 |
| Minimum deposit and payment options | 10 |
| Demo account | 10 |
| Support and tutorials | 10 |
| Profit (according to User reviews) | 10 |
| Overall rating | 15 |
A Brief Overview of Bitcoin Prime
Before we entirely go into why Bitcoin Prime is a scam, what exactly is Bitcoin Prime, and how does it work?
Bitcoin Prime is an "automated trading robot" mainly focused on cryptocurrencies like Bitcoin. It is a Bitcoin trading platform that claims to present you with friendly bargains on the market. It also boasts of a 60-95% success rate.
The software also claims to link both new and seasoned bitcoin traders to cryptocurrency brokers in the industry.
In its operation, Bitcoin Prime adopts the standard trade concepts. You buy Bitcoins when the prices are low, and you wait for the prices to go up before you sell again. On its face, Bitcoin Prime appears legit but look closely, and you'll see that it's just another get-rich-quick scheme.
We also made other findings from our investigation to show that Bitcoin Prime is indeed a scam.
Many a Reason There Is to Not Trust Bitcoin Prime
Many "Official" Websites
Many user complaints are centered around the fact that Bitcoin Prime has no official website.
If you type Bitcoin Prime on your search engine, you'll see that multiple pages claim to be the official website.
All these pages also have different IP addresses, domain extensions, and varying (or similar) website logos. This is a huge red flag.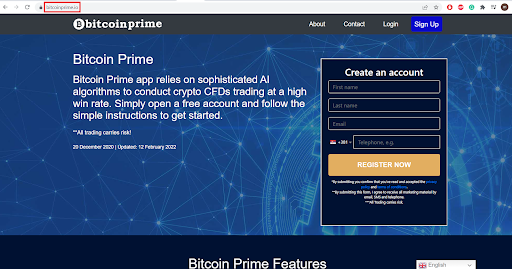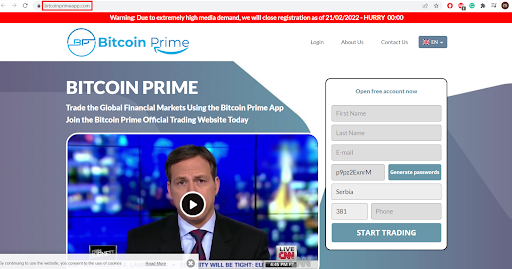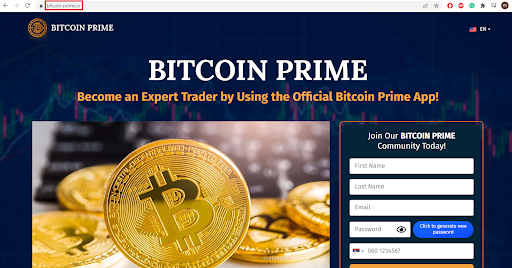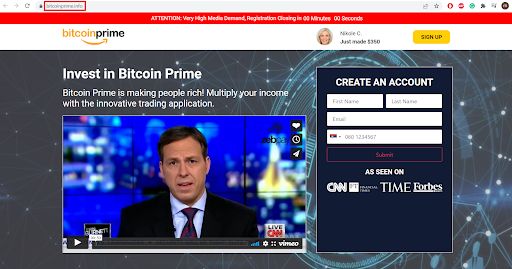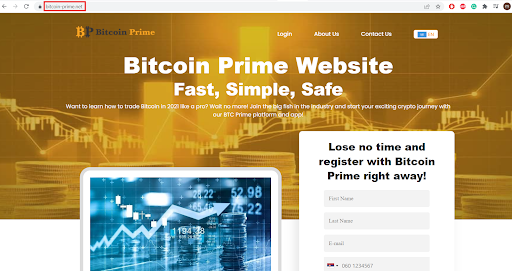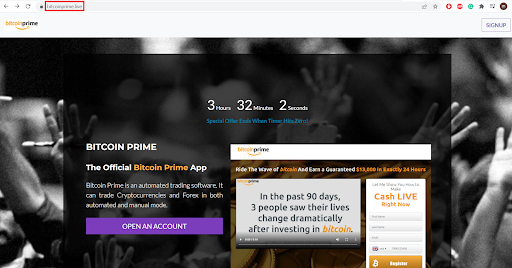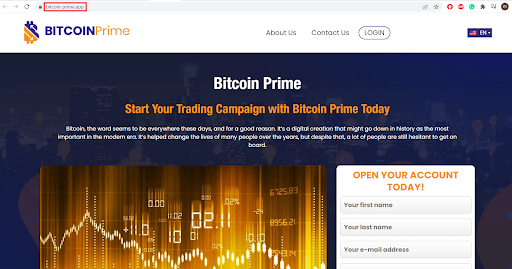 How come a platform that's supposed to earn you $13,000 in under 24 hours can't rely on a single platform?
And if at least seven websites are claiming to be Bitcoin Prime, how do you know which one is real?
We couldn't even trace any of these websites to existing networks. So you'll see that it's pretty risky to invest your money in Bitcoin Prime when you're not even sure which software to use.
Who Is Steve McKay?
The only known founder of Bitcoin Prime is called Steve McKay. He is a self-proclaimed wall-street veteran with many years of experience in bitcoin and cryptocurrency trading.
He's said to have a degree in computer science and software engineering. You may even come across articles and images all over the internet.
However, as we looked into the identity of this Steve McKay person, we uncovered something interesting.
Steve McKay is a very busy person, having invented not only Bitcoin Prime but also Bitcoin Code. For reference, Bitcoin Code is a popular scam cryptocurrency trading software that duped many people.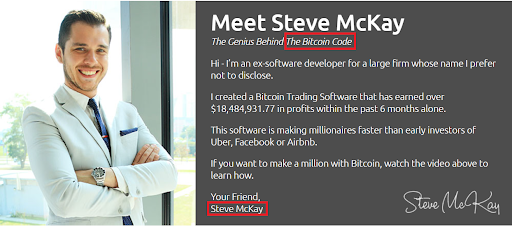 What's more, there are no interviews or videos of any Steve McKay across the web. We also checked for the personal information of Steve McKay, and we couldn't even find where he got his college degree. This is quite suspicious because how can someone so famous be so unknown?
Not only that, but Steve McKay is apparently also Stefano Savarese and Sven Hegel.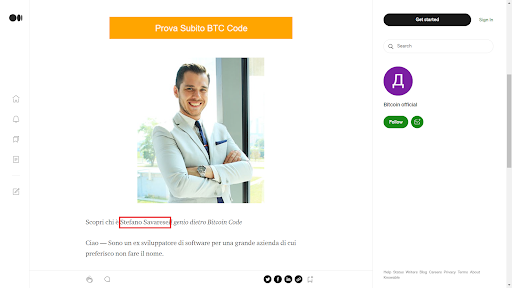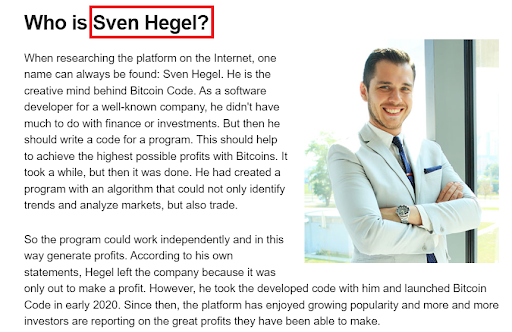 Steve Mckay's identity is made up as proven above, and you should be wary of any site that praises or celebrates him.
Fake News and Reviews
One of the ways most people fall victim to the Bitcoin Prime scam is through fake review sites. Several news campaigns are claiming that Bitcoin Prime is legit.
You'll also find some review sites that endorse Bitcoin Prime and even recommend it to users. However, you don't want to believe any of these sites.
You'll even find news articles that claim to have been published by CNN or the BBC. But if you actually check the official CNN website, you won't find any Bitcoin Prime endorsement. There's no proof that BBC or any reputed media agency has endorsed Bitcoin Prime.
So, where did these news articles come from?
Many scammers create clone review websites to push their market forward to get more victims. The application may redirect you to fake news articles showing how many celebrities endorse Bitcoin Prime. Elon Musk, Jeff Bezos, and the Winklevoss twins are among the stars mentioned on the Bitcoin Prime websites.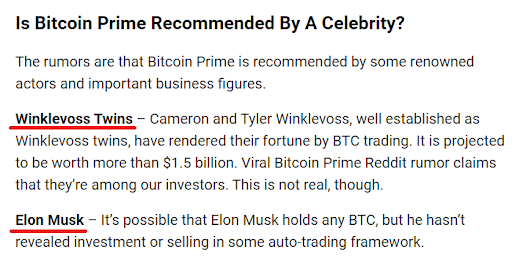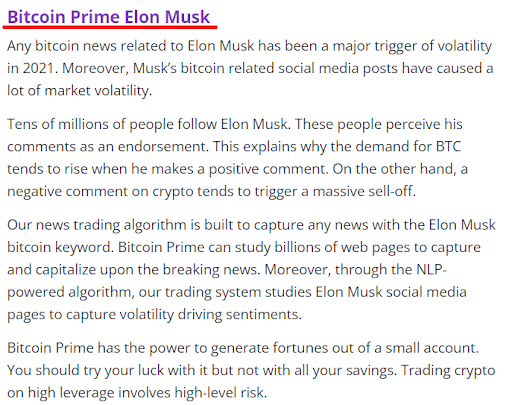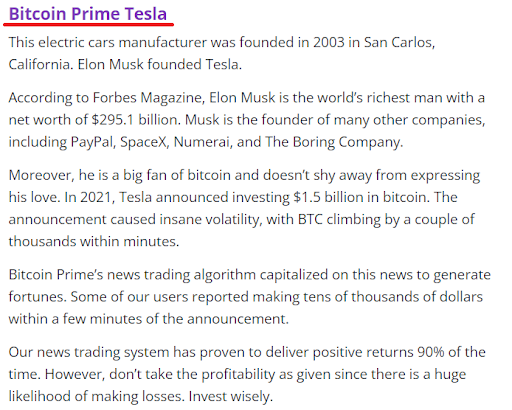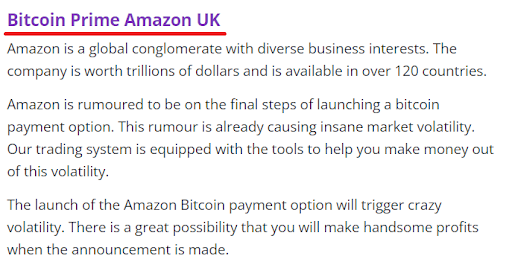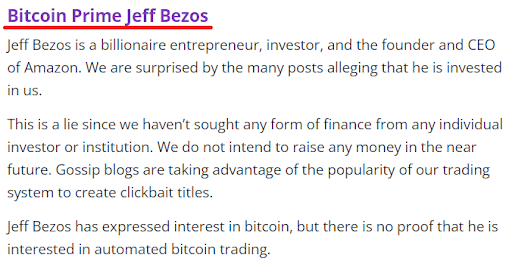 However, if you look closely at the language used in these announcements, you will see it is all fake. They do not actually say these stars have invested with them, as they could get sued.
Instead, they present unrelated facts in the same section to make the readers believe billionaires have used their services.
The reviews of their "users" presented on some of their websites are also fake.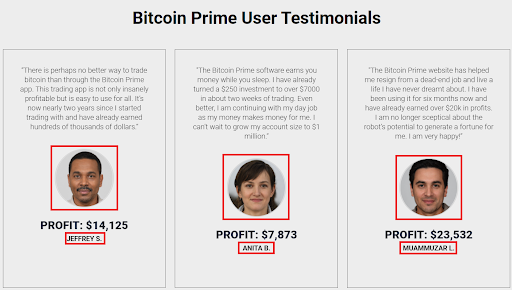 These images were sourced from people's social media accounts. They are probably unwilling participants in this scam and don't even know their identities have been stolen.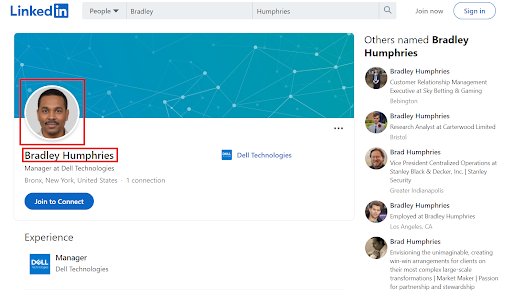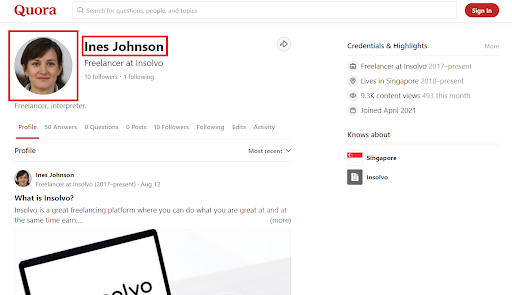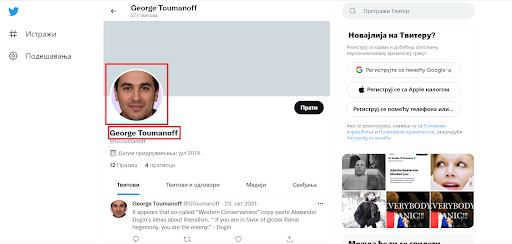 This only further proves Bitcoin Prime's inability to conduct business transparently and you shouldn't trust them.
In addition, despite how effective Bitcoin Prime claims to be, there aren't any market surveys or technical analyses to support it. But most of these sites that claim that Bitcoin Prime is legit fail to mention this.
Also, they fail to add that the trader has to open and close trades manually. Why would they fail to add this fact? Maybe it's because they are not objective and want you to have no doubts about Bitcoin Prime.
Fake Trustpilot Reviews of Bitcoin Prime
They also make fake testimonials and pay users to drop positive reviews on review pages. Yet you'll find negative reviews from real people exposing the scam.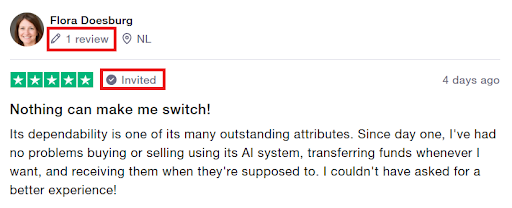 Notice that the positive reviews have their reviewers only ever posting once on Trustpilot. Moreover, these posts are labeled "Invited".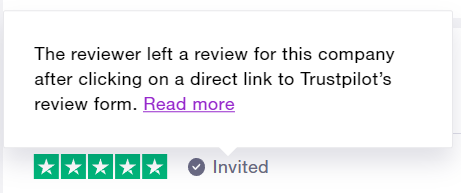 To help promote transparency, Trustpilot flags the comments solicited by the company. They, alongside most businesses, prefer organic reviews.
On the other side, the customer complaints are usually specific and very similar. And this only shows that there's a pattern that these scammers follow.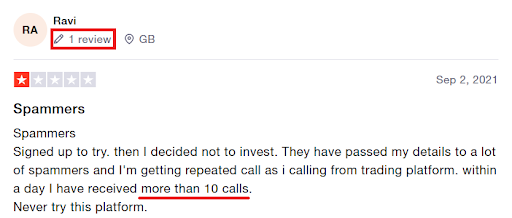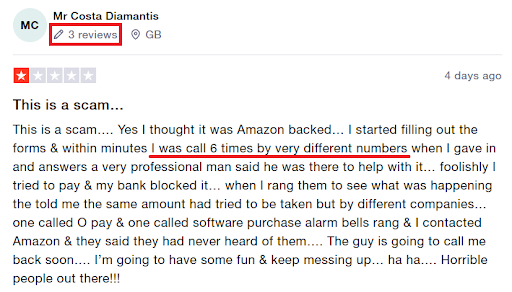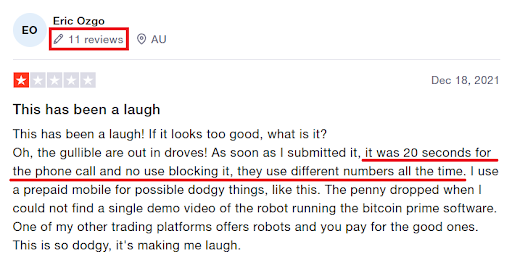 Even if the reviewer has a few posts on Trustpilot, the cumulative outcome here, them being called endlessly from different numbers, adds up.
Reputable companies use only one number or sometimes two, but not six, ten, or even 20 different ones.
Bitcoin Prime Similarities with Old Bitcoin Schemes
The most curious thing about Bitcoin Prime is its similarity with some former Bitcoin trading software scams. You have to note that most of these scams aren't new ideas, but they're copies from older schemes. So with intense research and background checks, you can uncover these scams for what they are.
For instance, Bitcoin Code was a scam trading software. Just like Bitcoin Prime, Steve McKay founded it. Typically, Steve Mckay disappeared into thin air after critics blew the sham.
There's no way you should trust any trading platform by Steve. You need to be cautious and only associate this name with scammers.
Also, one Bitcoin Prime website has the same homepage design as Crypto Trader, Immediate Edge, or The News Spy. Just look at the designs below.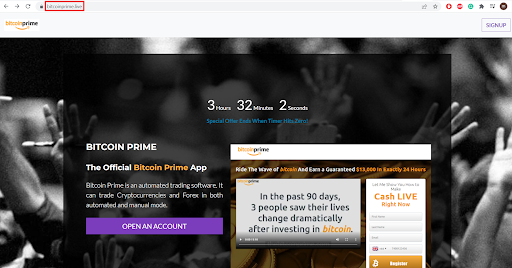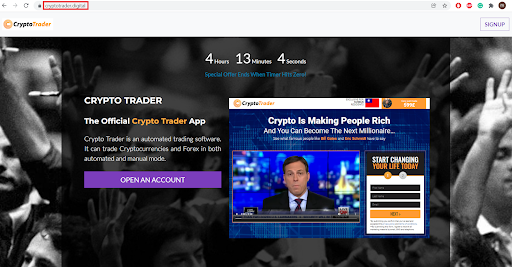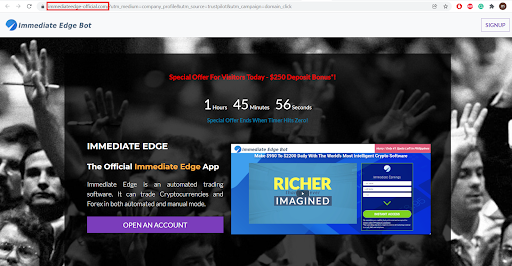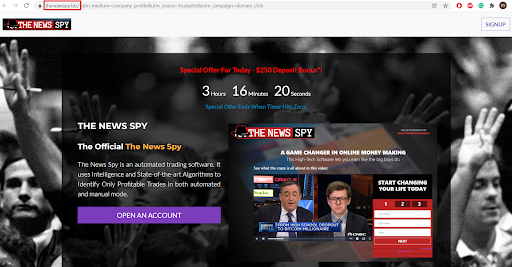 Another design is the same as Yuan Pay Group, Bitcoin Era, or Profit Secret, to name a few. You can look below for side-by-side image comparison.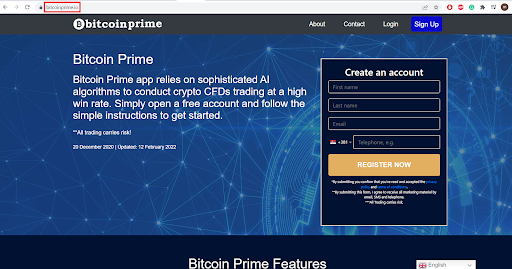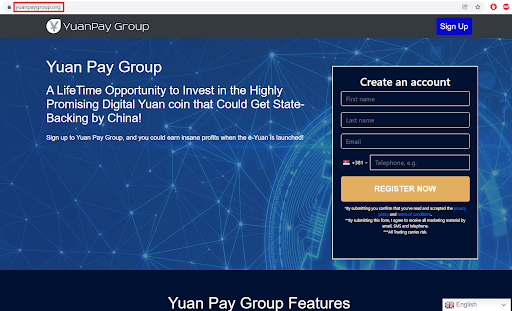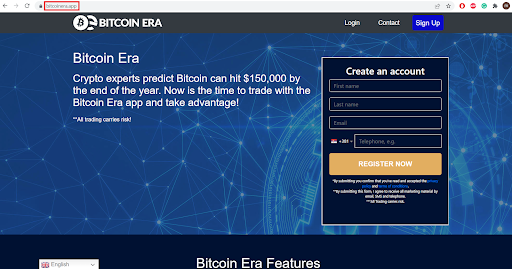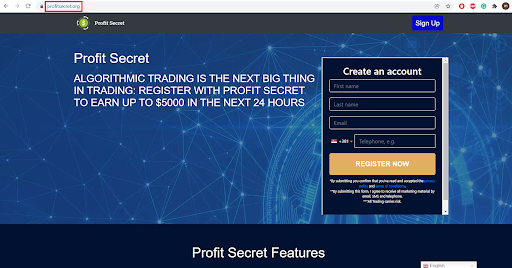 You can see that Bitcoin Prime is a complete duplicate of other know scams.
No federal authorization
Generally, license bodies regulate the investment sector with strict laws. Before an application can trade financial derivatives on exchanges, it needs a license from financial regulators.
However, Bitcoin Prime has no authorization to operate. Therefore, it is illegal in most countries. Also, there's no way to identify who runs this software, whether a person or a company. So, it's impossible to trace if Bitcoin Prime has any actual credentials and licenses.
Moreover, the FSMA (Financial Services and Markets Authority) warned Belgians against using Bitcoin Prime services, as did CONSOB. CONSOB is the Italian regulatory body of the financial market.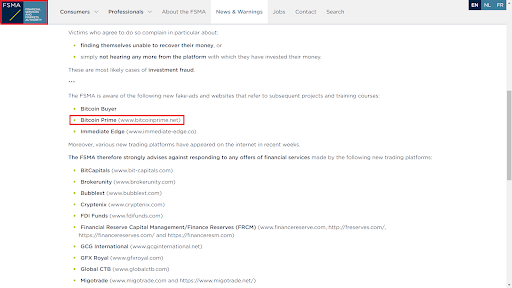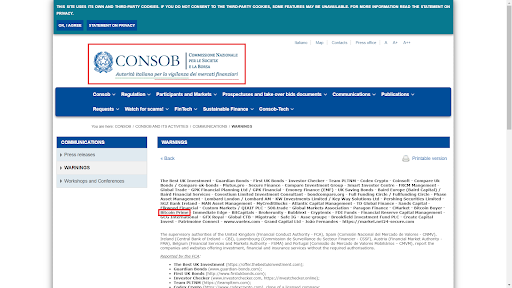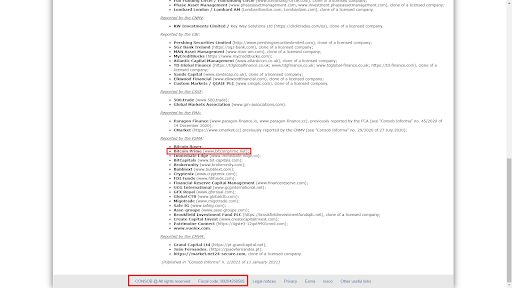 The Honest Bitcoin Prime Alternative
There are simple crypto trading bots you can use instead of Bitcoin Prime. They have the correct federal authorization, and they're also wholly trustworthy.
Binance, Uphold, and Coinbase are legitimate bitcoin trading platforms, and any is a perfect Bitcoin Prime alternative.
They offer an exchange platform where users can trade cryptocurrencies like Bitcoin, Ethereum, LiteCoin, Bitcoin Cash, etc., without complication. Users can sell all kinds of resources, including cash, credit, and so on, in exchange for the cryptocurrencies they want.
Our objective research finds that the platforms above are entirely legitimate. You quickly make withdrawals any time you want. In addition, there is no evidence of scams, and we know the true identities of the brain behind the platform.
For instance, Changpeng Zhao developed Binance, and Forbes had mentioned him several times.
You'll find authentic testimonials written by actual users with primarily positive feedback. You'll also see honest ratings from users.
If there are complaints, you'll know that Binance will address them, especially on the Google App. They also have efficient customer service, and if you send any email or requests, they'll promptly attend to you.
Our Verdict on Bitcoin Prime: It's a Scam
Bitcoin Prime uses a 'hard sell' approach to force innocent users to register and deposit money on the platform. It is a complete sham with no federal license or permit.
We've also proved it to be a clone of many old Bitcoin schemes. And it also has many fake reviews and blog posts claiming that it is legitimate.
However, from our honest investigation in the Bitcoin Prime review above, we have discovered this scam. Many of these reviews are lies that paid users write to convince you to drop your money.
FAQs on Bitcoin Prime
Is Bitcoin Prime a legit crypto trading bot?
Bitcoin Prime is not a legit crypto bot. It is a scam and there is much evidence that shows it is unwise to invest with this platform.
Can I make money with Bitcoin Prime?
No, you cannot make money with Bitcoin Prime. As the honest reviews on the internet suggest, it is a scam that takes away your money and you never see the profits.
Is Bitcoin Prime a scam?
Bitcoin Prime is most certainly a scam! They pray on novices in the industry with professionally-designed websites and fake user testimonials. If beginners are not careful, they can easily fall prey to the scam.
Should I invest with Bitcoin Prime?
You shouldn't invest with Bitcoin Prime. It is a scheme designed to make people's investments disappear. You will not see the earnings and you will only waste both time and money.
Aaron Savage
I think my life changed the day I learned about this amazing guy whom I share the name with – Aaron Savage. He was among the first people ever to advocate for freedom of information and the internet, and I feel he would support a great deal of decentralized finance idea if he was alive today. So, I am just another IT guy, super curious about crypto and writing my opinions and analyses here from time to time. Enjoy!